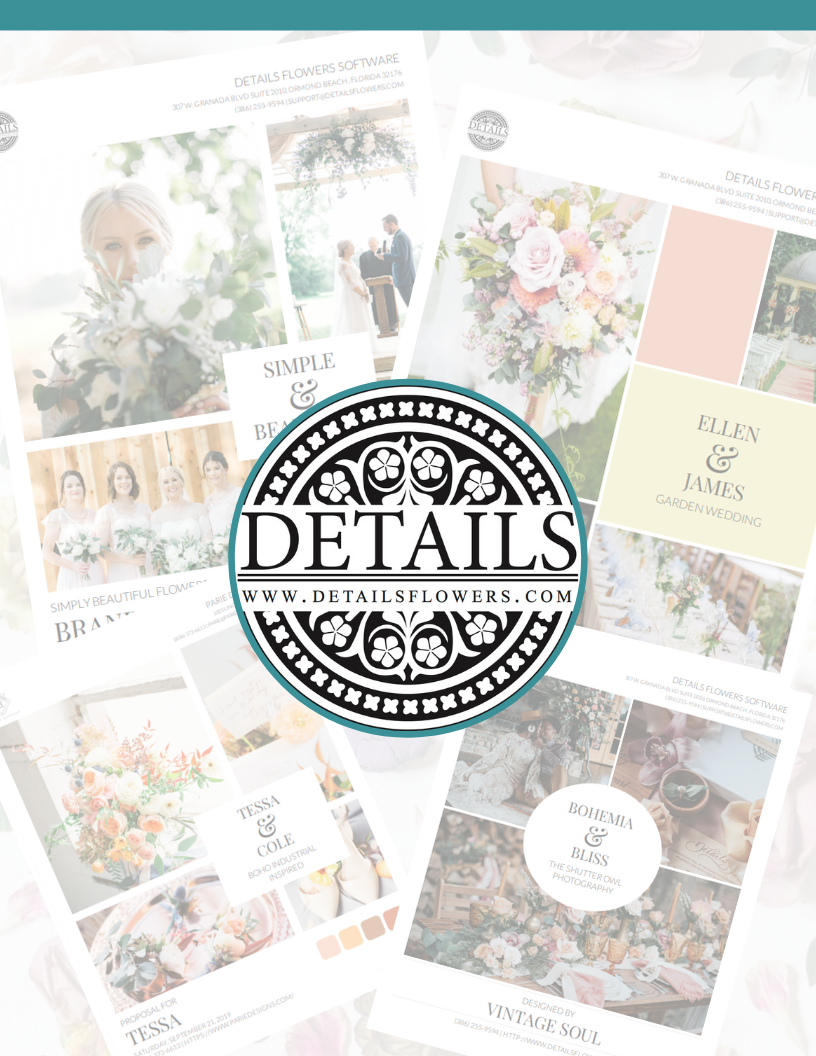 Want to know all the details before getting started? Below, find the answers to our top asked questions!
We're here to help! You can reach us by emailing sales@detailsflowers.com or by calling (386) 255-9594 between the hours of 9a-5p EST Monday - Friday.
Want to learn how we can help?
Fill out this form for a downloadable pdf which includes a preview of all our great features!
Trial & Subscription Information
Can I get started with Details Flowers today?
Absolutely! Click the button below to start your free 7-day trial. During your trial, you'll have complete access to our entire feature suite so you can experience how Details Flowers will help increase your profitability, productivity, organization, and capture the competitive edge!
Here's a sneak peek: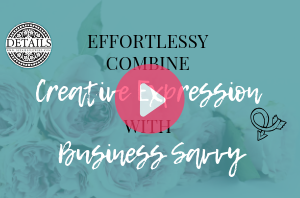 What do I get in my free 7-day trial?
You'll get full access to Detail Flowers' full suite of services for 1 full week. You will also have a personal sales representative to assist you as you and your team as you get acquainted with all the details!
As we add new features, you will automatically get to USE them, even while on your trial! It's an exciting time to join the Details Team.
Worried about implementation? Don't worry! We also have a stellar support team that is here to help. Annual plans include two in-depth training courses that will help teach you about all of our tools. Monthly plans can take advantage of training for a low fee. Our team has the technical know-how and event knowledge that will help you make the best use of the software!
What happens when my trial ends?
At the end of your 7-day trial, your credit card on file will automatically be charged the rate of the plan you selected and you'll become an official Details Flowers member!
You will continue to impress your clients, be amazed at how much time you saved, and build an extravagant image library of your designs the more you use Details!
What are Details Flowers plans and pricing?
In the world of floral design, there's no such thing as one size fits all for your business. Details Flowers understands this better than anyone. That's why we're pleased to offer multiple levels of membership to fit the needs of any size business. The best news? You don't have to pick and choose what's more important to you (or pay a high price to get it all!) All of our plans include every single feature, from proposal creation to order forms.
Business: $150/month
Includes 3 templates, training courses, invoicing (additional fees apply), and 2 users. Monthly PRO subscribers will also have access to our exclusive preview group and Details Rewards Program. This is a convenient and flexible plan. Great if you're just getting started!

Professional: $1500/year
All of the same great perks as the Monthly PRO, but also includes a 30% discount on all premium templates and a low 1.10% Details Invoicing Application Fee. Annual PRO subscribers will also have access to our exclusive preview group, Details Rewards Program, and 2 in-depth Details University courses. Whether you're just getting started or a seasoned pro, this plan offers great perks for you!
Enterprise: $2000/year
A perfect option for high production companies with multiple branches that create around 350+ events a year. All of the same great perks as the Annual PRO plus 50% off all premium templates, 4 users per branch, .60% Details Invoicing Application Fee, and discount on additional Details accounts. Enterprise PRO subscribers will also have access to our exclusive preview group, Details Rewards Program and in-depth Details University courses.
Additional users are available with every package plan for only $10/month per user.
Not sure what plan is best for you? Ask a member of our team for more information by emailing sales@detailsflowers.com
What are some of Details Flowers top features?
Every business has different needs! That's why we created a software solution that can help, no matter the challenges you're trying to overcome!
We understand that committing to a new software is a big deal - and you want to be armed with as much information as possible before getting started. To help you on your journey, we've compiled a handy list of our top features. Click the image below to download the full list.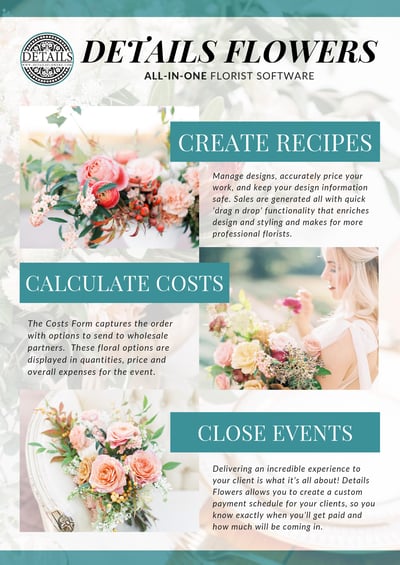 Do I have to pick and pay for individual feature packages?
Never! At Details Flowers, our ultimate goal is to help you succeed. This is why every Details Flowers member, no matter the subscription level, can take advantage of every feature in our all-in-one software solution to help capture that ROI faster.
As a Details member, each subscription also includes access to live support via phone, email, chat, and through our Support Portal.
Does Details Flowers have a referral program?
At Details Flowers, we're passionate about building a strong floral community. Florists helping florists is what we're all about!
To help encourage community, we've created an exclusive referral program for our members.

Here's how it works:
We'll create a personalized link and discount code you can share online and with fellow florists to help them sign up and start their trial.
The discount code gives your referrals a very special $75 discount for two months of service - our gift to them from you!
Once your referral completes their promotional period and continues with Details Flowers, we'll send you a $50 gift card.
Other than sharing your love for Details, along with your special link, there's nothing you need to do!
What kind of support is included with my subscription?
Details Flowers Software is proud to offer the best support out there! Take a look at what's available:
Details University
We offer two in-depth training courses. Each course takes place online, so you can complete it from the comfort of your own home or studio. For Professional & Enterprise accounts, training is included!
Like to learn on your own time?
We have robust (and searchable) Support Center full of how-to articles! As a member, you have 24/7 access to our Support Center.
Are you an 'in-the-moment' person?
Use our convenient chat feature, located directly on Details Flowers Software. Connect instantly with a member of our team to get your questions answered! More old-school? Give our office a call to speak to a member of our team.
Not in the mood to chat?
We offer a complete Support Portal, where you can easily send us your questions, request features, and more!
Need a refresher?
Review your questions with our Support Team via an online screen-share! We will help guide you through the software so you'll walk away with a better understanding of Details Flowers. Unlike other software companies, we don't charge for support time.
At Details Flowers Software, we strive to make each experience with our team delightful. It's another reason why we're the preferred solution for florists and event designers!
Can I cancel at any time?
Yes! While we believe we are the best software out there, we understand that we may not be the best fit for you and your business. If that's the case, you're welcome to cancel your subscription at any time and we encourage you to let us know why. Our support team is here to help you succeed and if you just need a helping hand, we're here for you!
Our Business subscription offers you a convenient & flexible plan that's great if you just want to test the waters. You're only committing to one month of access at a time.
Professional and Enterprise pay a discounted rate upfront for 12 months of access. While you can cancel at any time, we do not refund for unused time.
To learn more about our cancellation policies, check out these articles:
Do you offer any discounts?
You bet! We offer great promotions throughout the year that will greatly reduce the cost of your first year with us.
Professional members get the most savings. If you sign up for a Professional subscription, you'll save $300 compared to our monthly plan. Our additional promotions offer even deeper discounts on top of that!
We've also partnered with
The Society of American Florists
to bring members an incredible discount! Members receive 15% off ANY new subscription plan and a FREE 14-day trial.
Floral & Event-Specific Features
Increase your profitability, productivity, organization and gain the competitive edge with Details Flowers Software at your side. Click below to learn about a few of our top features!
How can Details Flowers help me increase my profitability?
Tired of manually calculating every little detail to make sure you're earning a profit? With Details Flowers Software, you can toss that calculator back in the drawer!
Our software solution can help you turn a healthy profit by accurately pricing your designs with your own margins in mind.
Many Details florists have seen their profits increase as much as 30% when using these tools:
WORKSHEET CALCULATOR
This feature gives step-by-step instructions for florists to create their designs & events. Easily adjust stem counts to see the software automatically price recipe designs for you!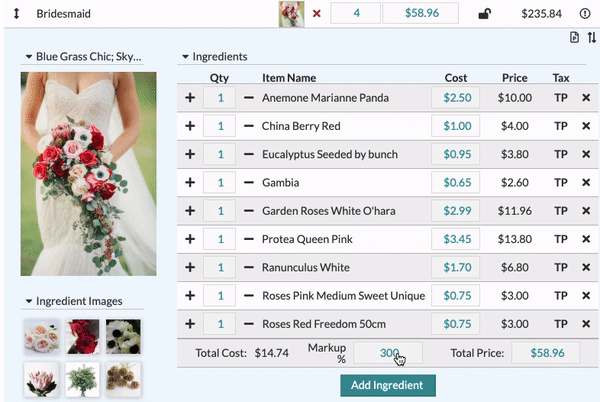 CUSTOM SERVICE & LABOR FEES
Each and every event has different needs. Assure your profitability by accounting for every charge! Your clients will love how easy your contracts are to read!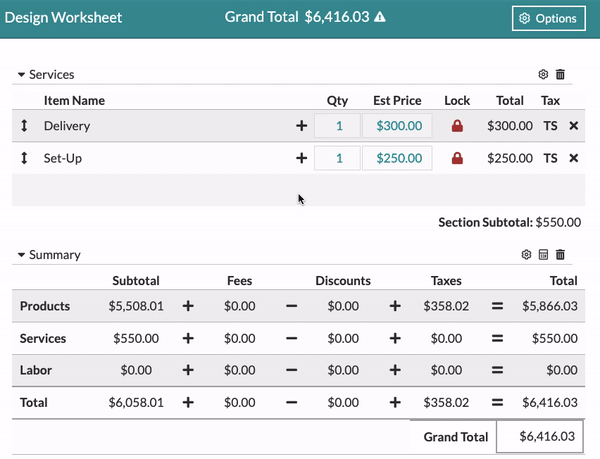 PROPOSAL SUGGESTIONS:
As a florist, you have a lot going on. Not only do you need to design and execute a flawless event, but you're a sales rep for your own business at the same time. Details Flowers exclusive Proposal Suggestion feature allows you to give your clients additional options directly in the proposal. It's up-selling done right!
Want to experience these features for yourself? Click below to start your free 7-day trial.
How can Details Flowers help me be more productive?
Time is a valuable commodity when you own your own business. We've created the perfect tools to help you win back time, without sacrificing a quality experience for your prospects and clients.
TEMPLATE CREATOR
We bet you've done a blush wedding before! With Details Flowers, you can create templates from previous events. Simply click, load, and adjust for your new client. Your custom Design Worksheet templates can load line items, quantities, recipes, and colors - saving you time!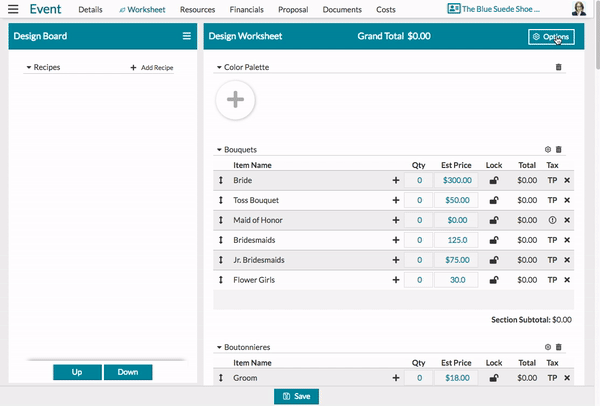 RECIPE & ITEM GALLERY
Compiling inspiration photos of recipes, blooms, and other items can be time consuming. Details Flowers has virtual galleries that can store recipes, items, and more! Many of our florists 'pick' flowers with their clients during consultation, too! It's a great way to offer an incredible experience for your prospects.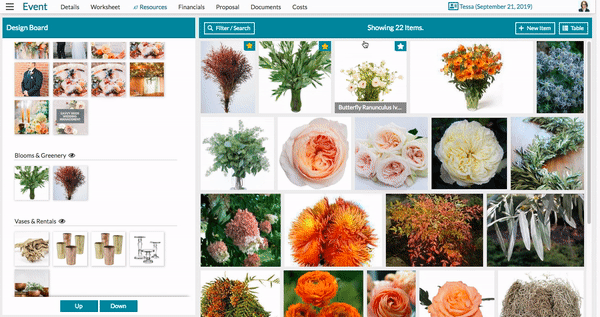 PROPOSAL EDITOR
Quickly create a dynamic and engaging proposal for your client with our simple to use Proposal Editor. You'll be amazed at how easy it is to create the perfect contract!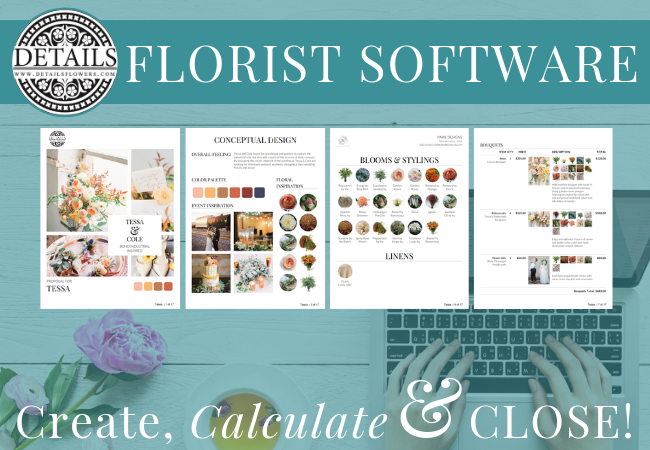 Of course, that's just a few of our features. Start your trial to see them all!
How can Details Flowers help me become more competitive in my area?
Let's be honest, there is no shortage of floral startups! It seems that they're blooming all over the place!
We're glad that so many are taking their passion for florals and turning it into a career, but that also means that as a business owner, you need to make sure that you're sharing the best of the best with your prospects.
How can we help you do that? Check out a couple of our features that will help you beat the competition:
ONLINE VIEWER & E-SIGNATURE
Get the proposal into your prospects' hands faster with our online proposal viewer! With a click of a mouse (or finger) they have access to the entire contract. Prospects can even sign the contract online with our E-Signature feature.
PRIVACY MODE
What if you could hand your client a completed proposal at the end of the consultation? With Details Flowers, you can! Our Privacy Mode allows you to hide all cost information in the system so you can pick items, build recipes, and create the proposal with your client in office. After that incredible experience, we bet they'll put down that deposit!
PERSONALIZED PROPOSALS
Add your client's color story, inspiration photos, and more to our easy to use Proposal Editor. Your client will be thrilled to see their very own inspiration included - they'll think it took you hours to create just for them (but it didn't!).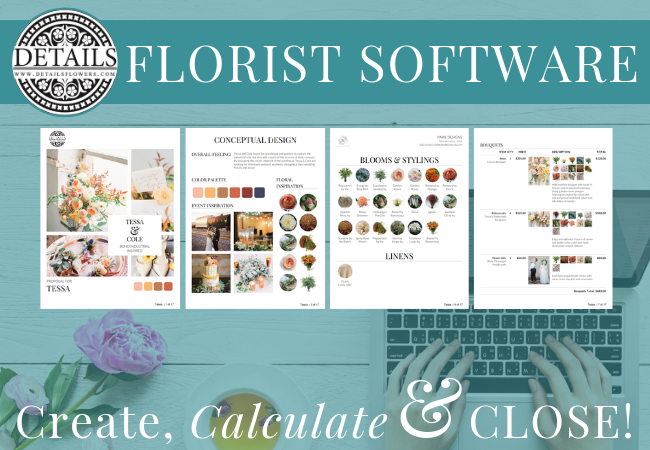 How can Details Flowers help me be more organized?
Say goodbye to messy spread sheets and sticky notes! Details Flowers will help you become an organization guru in to time at all! Here are a couple of our top features to do just that.
EVENT PIPELINE & CLIENT LIST
Easily keep track of all your events with our Event Pipeline & Client List. See current events, upcoming payments due, and more in a snap!
ORDER COMBINING
One of the top reasons florists lose profit is due to over-ordering. Details Flowers Software's newest feature gives you the ability to track items you've used in your events: past, present, and future! You'll be able to compile a list of everything you need for a weekend of events, including total inventory, recommended bunches, and more! Not only will this maximize your profitability across multiple events, but it will simplify your ordering process. With the click of a button, your complete order can be exported. It's just one more way Details Flowers Software helps you check off items on your to-do list!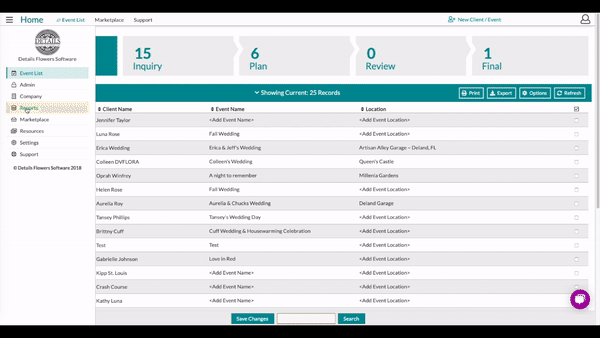 RFQ SYSTEM
With our RFQ system, florists calculate entire orders in a snap and send them even faster straight from the design room. Instant communication with suppliers makes sure that florists can anticipate costs and suppliers can forecast needs. We work with the world's best suppliers to help source the most beautiful flowers.
And there's more to love! The best way to learn if we're a perfect fit is to try it out for yourself. See what florists are raving about! Click below to start your free 7-day trial.
Tell me about your invoicing feature!
Details Flowers invoicing is an amazing added feature that gives you the ability to offer your clients a convenient online payment option. No longer do they need to wait for a separate invoice to make payments!
Our invoicing is powered by Stripe, and once you sign up, you're able to start accepting payments right away!
Not sure if it's right for you? You're welcome to sign up and give it a try. Once signed up, you can use it as often or as little as you like.
What are the fees?
Stripe will remove 2.9% +.30 per transaction
There is also an additional fee removed by Details Flowers. The fee varies per plan:
Monthly PRO: 1.25% per transaction
Annual PRO: 1.10% per transaction
Enterprise PRO: .60% per transaction
Why is there an additional invoicing fee?
Our additional fee helps us keep your monthly/annual rates low! Other companies may not advertise a fee to use their invoicing, but you'll wind up paying for it via higher subscription rates!
Am I charged a fee for all payments recorded in the software?
If you are not taking the payment through our online invoicing, there is no additional fee!
Can I turn off the ability to pay with a credit card?
If you don't want your user to pay online, simply send them the Summary page of the contract. It includes your payment schedule, where to send checks, and all the grand total breakdown.
Want to see it in action?
You have complete access to our full suite of features during your trial and we encourage you to try it out.
Can I create my own proposal templates?
As a Details Flowers member, you have access to gorgeous proposal templates that will help you put together a professional, dynamic, and beautiful contract in no time at all!
Many components of our contracts are customizable, such as what information shows on certain pages. While we offer you the ability to customize the content within the template itself, you're not yet able to create your own template, but let's be honest - the result is still as beautiful as ever!
Here's a sample of our editor: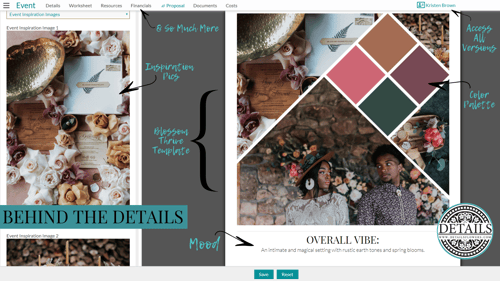 Do I have to upload all of the images in the Flower Library and Recipe section?
Lucky for you, Details comes preloaded with over 800 items and their costs, and over 80 recipes for you to choose from. You are welcome to add as many as you'd like at no restrictions.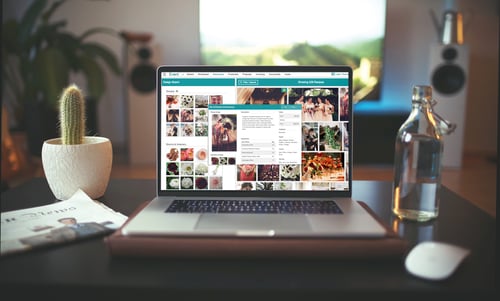 Do I have to set all of the costs in Details Flowers?
Details comes preset with costs that are pretty close to market average. Any changes to costs or markups that you make are automatically saved as part of your company history and can be updated at any time by your authorized users.
While it is not required for you to update the cost information, we highly recommend that you take the time to do so! It's a small investment of your time that will yield a high reward - accurate pricing and increased profitability!
If you don't have the time right at the start of your subscription, don't worry! You can easily update cost information directly in the recipe itself at any time.
I heard Wholesalers are a part of Details, how does this impact me as a florist?
You will be thrilled to have quicker turnaround on costs and availability to purchase in real time and be a part of predicative ordering. Our wholesaler partners are excited to participate in this innovative new buying process called 'Request for Quotes'.
This feature is available for you to use during your trial, so please explore it! Don't see your preferred supplier? Ask your sales rep to learn what partners are available in your area.
Are my recipes available to every florist on your platform?
Absolutely not! All of your recipes are securely stored for your reference only. Any items that you add are part of your company, and no one else's. We will from time-to-time push out updates and changes (i.e. new blooms, new community recipes), however your information is yours unless otherwise shared. We would like to have a feature in the future to share designs, but you would have to opt in to this opportunity by changing your individual recipes from private to public.
This exciting feature has yet to be released. If you're interested in having your designs shared with our floral community, please let us know!
How often do you make updates to the Details Flowers system?
Here at Details Flowers, we are continually developing the software to bring you the best, floral and event designer-focused features.
For large changes, like new feature releases, we will send out announcements through our email marketing campaigns to alert all Details Flowers members.
All large updates take place when there is little to no activity on the site, so you can be assured that your work day will not be disrupted!
What if I have any idea for a new feature?
We love feedback and ideas from our users! Not only does this help us improve our product, but it helps guarantee that we're creating relevant features that will make a difference for your company! The more requested items are brought to the top of the list, but we are constantly adding and updating, so please tell us what you're wishing for!
On your trial and have a suggestion? Simply head to our Support Portal, located within Details Flowers and fill out the quick form. Otherwise, you're welcome to send your suggestions to your friendly sales rep!
Do you have an online community or forum?